Bob Womack and his brother William emigrated from Kentucky with their parents and sister to Colorado City (now Colorado Springs), a thriving town east of Pikes Peak. The brothers bought a ranch about forty miles to the southwest, on the west side of Pikes Peak in 1876. (https://coloradoencyclopedia.org/)
Cripple Creek then started off as a mining town during the big Colorado mining boom in the 1890's. People moved to the area to mine for gold and become wealthy. Cripple Creek started off as two towns, named Fremont and Hayden Placer. Once a bunch of prospectors started moving to the area, the two towns combined into one bigger town called Cripple Creek, which is what it is still called today.
In 1896, almost the entire town of Cripple Creek burned to the ground. The fire burned most of the town and left half of the residents there homeless. After the fire, Cripple Creek was rebuilt in stone and brick, unlike how a majority of the town before the fire was made of wood.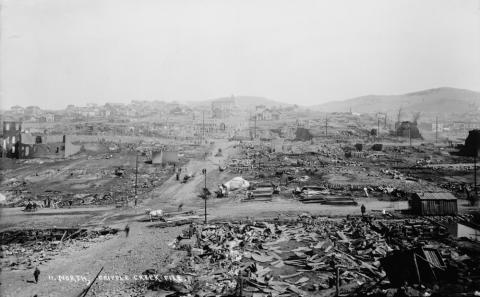 Mining started to decline after the 1980's so the town then turned to Casinos and gambling in order to further develop the economy and for preservation. Using money from the casinos, historic commercial buildings have been restored starting in 1991.